The Great QLD Getaway
To make your Reservation and claim your Gondola Cruise using the Qld Getaway Promo code please follow the directions below:
TERMS: PLEASE NOTE
~ We operate 7 days a week, from early till late. The QLD Getaway Promo code is available for Credit toward your Gondola Cruise on any day except for Sunset Cruise on Friday, Saturday or Sunday, but must be Booked before October 31st. (Reservations up until January 23 are available).
All cruises are non- refundable. no cancelation within 7 days of your cruise or you lose full payment. A $50 reschedule fee applies to any rescheduling. If a cruise is canceled due to bad weather you will get a free reschedule.
Full payment must be made in advance.
~ Booking changes: Once your Booking has been Reserved, you will not be able to change the Dates for the same price. To reschedule your date or Times there is a $50 fee. Changes due to weather is at the discretion of our experienced Skipper. In the event of a Cancelation by Island Gondola or due to Covid-19, there will not be a penalty and your Booking will be re-scheduled.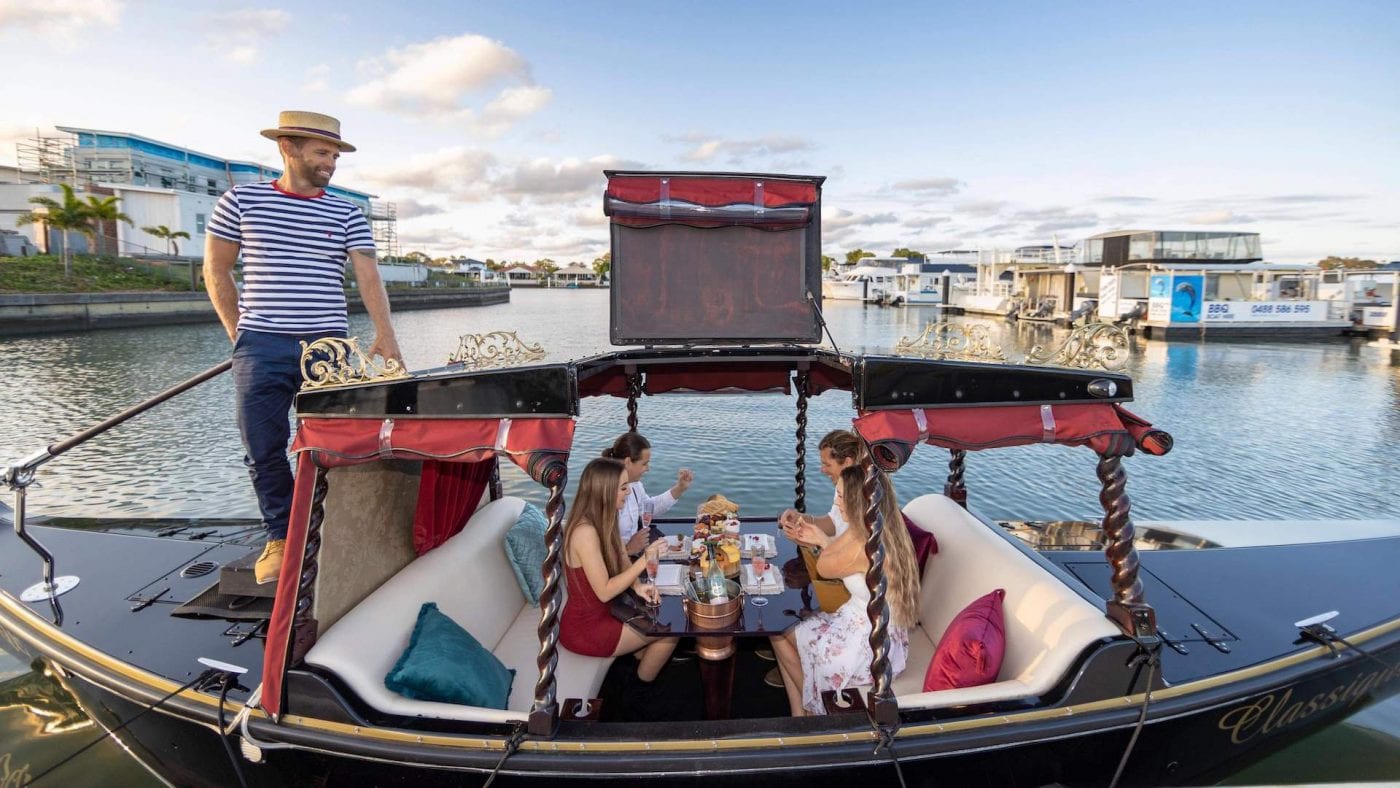 Hi, and welcome to Island Gondola!
If you have a Promo code for The Great QLD Getaway and would like to book with us,
Please send a text message to 0466 662 911
  a screenshot/ photo or the link to your voucher
  Your Name, Phone and email address
  The date and time you're hoping for (Please check our calendar for availability)
  How many people you would like to Book
  Your menu option, or if you would like to BYO food
If you would like red wine, white wine or champagne flutes for your cruise
We will save your time and date for you, process your voucher, then we will look forward to being in touch regarding the remaining amount owing.
Thank you for choosing to book with us!
We look forward to creating a magical Gondola experience and lifetime memory.
The Getaway Promo – Terms & Conditions
Booking changes
You are required to contact Island Gondola to enact any date or other changes in accordance with the Island Gondola's Terms and Conditions.

A FEE of $50 is required for ANY rescheduling by Guests. This is not required IF Island Gondola Skipper reschedules due to his decision for unsuitable Weather conditions.

Island Gondola will make any date changes against the QLD Getaway code in the portal.

NOTE: You the consumer must have booked your experience by 11:59pm AEST, Sunday October 31, 2021 to be eligible to use the voucher code. Promo code number is valid until the operator accepts the booking, and no additional technical process is required.

Refunds and cancellations
You are required to contact Island Gondola to facilitate the cancellation process in accordance with Island Gondola's Terms and Conditions.

Island Gondola will update the booking in the operator portal accordingly. 

No shows/cancellations that incur 100% cancellation fee
No shows are considered an automatic cancellation and handled in accordance with Island Gondola's Terms and Conditions.

If the cancellation incurs 100% cancellation fee, then the usual operator reimbursement process will apply.

Operators will be required to provide proof of cancellation terms and validation that the cancellation attracted 100% cancellation fee.