Reservations ~ Location ~ Contact Us
For Your Gondola Experience
For Reservations / Booking information
Advance Reservations required. Cancellations or changes require a minimum 24 hours Notice!
Please note: Reservations in advance are essential. To make your BOOKING, go here.

Please Reserve your Bribie Island Gondola Cruise & any Dining/Menu choices by Our Online Booking System.
To Enquire about potential Bookings, use the easy SMS Booking method:

SMS Melanie (8am – 5pm only) – on 0466 66 2911 with Your Name, preferred Date & Time, Number of People
Melanie will Reply as soon as possible with either Confirmation or alternative Time plus Details on Payment
If you're ready to Book your Reservation – make the Payment as described, a receipt will be sent
The Booking Details and any Dining Menu choices will be confirmed.
Our Location.
* Boarding at the Pacific Harbour Marina, Banksia Beach
Address:
Lot 2 Harbour Promenade (off Marina Boulevard) / Next to Bribie BBQ Boat Hire
Directions to board the Gondola:
Turn left off Bribie Island Bridge onto Sylvan Beach Espl, follow to Marina Bvd, turn left into Harbour Promenade.
Alternatively, follow Bribie Island Road through to Sunderland Drive, then in to Marina Boulevard and then right into Harbour Promenade.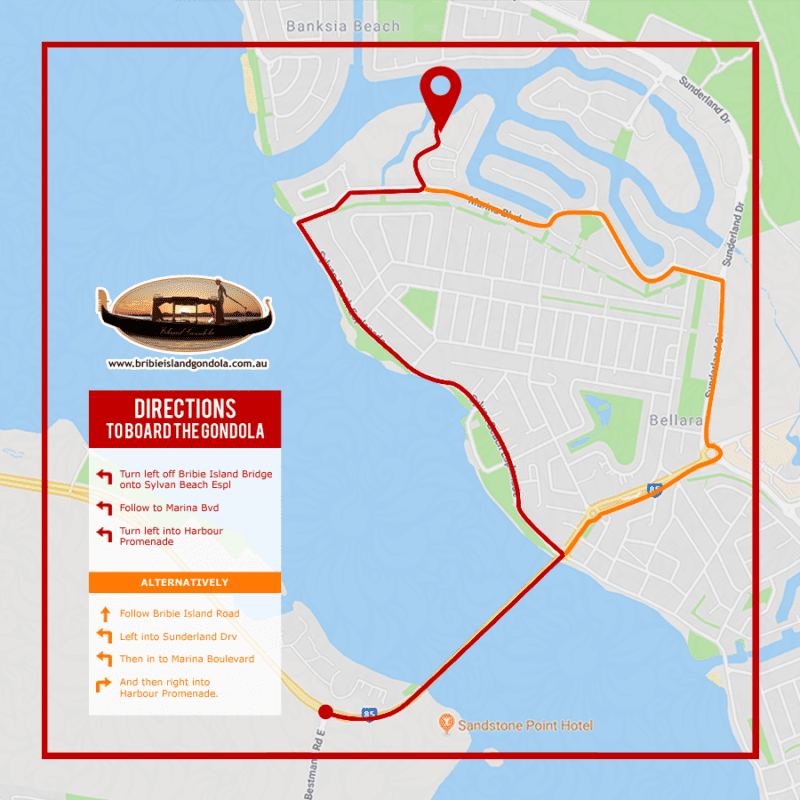 Bookings now available.
Phone OR SMS (8am – 5pm) Melanie on 0466 66 2911
or Quinn 0421 421477