Weekend and evening cruises
are now available!
Things To Do near Brisbane: Experience the Island Gondola on the beautiful Bribie Island waterways in view of the Glasshouse Mountains. Sunset or daytime cruises.
Cruises are weather permitting.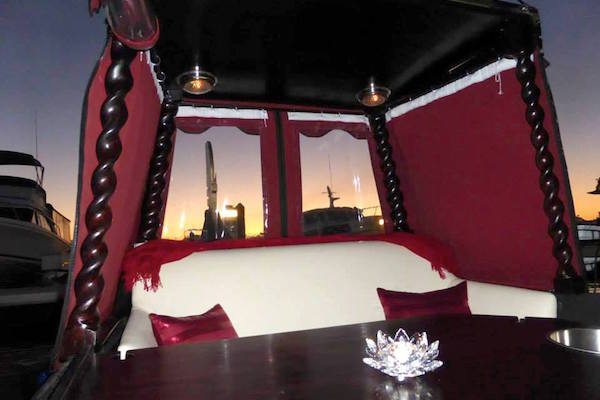 Onboard Music and Complementary Chocolates, Ice bucket and Glasses are provided.  B.Y.O your favourite drinks.
Rates for Bribie Island Gondola cruise
Cruise rates are as follows (dining options extra);

* 1 hour Cruise
2 people      $90 per person   ($180)

3 people      $65 per person   ($195)

4 people      $55 per person   ($220)

5 people      $50 per person   ($250)

6 people      $50 per person   ($300)
*  1.5 hour Cruise
2 people      $110 per person  ($220)

3 people      $80 per person    ($240)

4 people      $65 per person    ($260)

5 people      $60 per person    ($300)

6 people      $60 per person    ($360)
$20 per child (under 13)
A lovely Gift
Your Island Gondola Gift Certificate is made with love on re-cycled card, placed in a Gold envelope and send to either you or your friend/ loved one.
A complementary Island Gondola fridge magnet is added, making it simple to call us or visit our website, once they are ready to book their Luxury Gondola Cruise!

If you wish to purchase an Island Gondola Experience, Please fill out the details on the Form.
We send you our BSB and Account No. Notify you when we have received your payment, then send out your special gift!
* Express post within Australia is an extra $10.00
* Sending a PDF Gift Certificate via email, incurs a $10.00 admin fee.
Gift certificates are valid for 12 months.

Thank you kindly for your business, we look forward to creating a magical Gondola experience!
Order a Gift Certificate
Please include all relevant information in the Form below and we will Contact you shortly with purchase details.
Our Location is on the Bribie Island Passage. Boarding at the Pacific Harbour Marina, Banksia Beach
Lot 2 Harbour Promenade (off Marina Boulevard)  / Next to Bribie BBQ Boat Hire
Please note: Booking an appointment is essential.
Directions to board the Gondola:
Turn left off Bribie Island Bridge onto Sylvan Beach Espl, follow to Marina Bvd, turn left into Harbour Promenade.
Alternatively, follow Bribie Island Road through to Sunderland Drv, then in to Marina Boulevard and then right into Harbour Promenade.